Pastor Brian & Allison Broadway
Brian & Allison are native New Yorkers and the Lead Pastors and Founders of Living Message Church. Brian & Allison met at Upper Room Christian World Center in Dix Hills, NY where Brian served as a Youth Pastor and Allison as a Youth Leader. They were married in 2001, had their first daughter Grace in 2007 and had their second daughter Hannah in 2010. Brian traveled and ministered oversees in Africa, Dominican Republic and Jamaica under the covering of Upper Room Christian World Center. Brian & Allison share a passion for reaching people and live by the motto of our church "Lord, Help Me, To Help Somebody Else". In 2004, the couple relocated to Clermont Florida, were Brian served as an Associate Pastor at a local church. Being led by the Holy Spirit, a few words came to him in the night; those words were "Living Message". Assuming that God was giving him a sermon title, he attempted to write it. When God revealed that it was a church, he attempted to find it. Then when God revealed it was a Church he was to start, he began to walk in it. Allison directs our Nursery Ministry "Lil Messengers". She has developed an environment where children can learn, grow, fellowship and share. With a shared passion for reaching the community, seeing people touched by the word and presence of God and helping people by not just feeding them for a day, but equipping them to feed themselves for a lifetime, they surge forward into a work in which the bible is not just quoted, but lived out. We hope to see you at Living Message Church.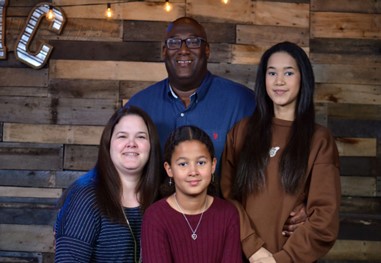 Fun Facts about Brian & Allison
Favorite Bible Passage
Brian: Galatians 6:9
Allison: 2 Corinthians 5:21
Favorite Movies
Brian: Star Wars (all of them), Matrix & Gangs of NY
Allison: Steel Magnolias & the Notebook.
Favorite Hobby
Brian: Coaching Basketball, Muscle Cars & NBA Basketball
Allison: Family Time, Being a Volleyball Mom, Shopping and Taking Naps